There's no question that it makes sense to have a sensory bedroom or living room in your home – a space that feels calming and cocooning, speaks to all five of your senses and feels like a haven from a chaotic world. But, what about a sensory kitchen? Often, we think of kitchens as functional or social spaces – high-energy rooms with lots going on and an overload of possible sensory triggers that are impossible to avoid. But, it actually doesn't have to be that way.  Of course, kitchens are naturally going to be less soothing spaces for some – particularly if you don't enjoy cooking or aren't comfortable with the sensory experience that comes with being around some foods. That said, there are ways to make your kitchen more calming, if you want to.




When I created the real-life Sensory Home, it was important to me to capture a feeling of serenity and carry it throughout the house – even in the rooms we typically don't consider to be relaxing, including the kitchen. I partnered with Magnet for a number of reasons. The first – they offer cabinetry designs which complement the aesthetic I wanted to harness, and for a reasonable price too.

The second – Magnet has a team of talented and experienced designers who can work to complex briefs (such as my own) and ensure you really maximise your space.real-life. I opted for the Nordic Nature kitchen – a Scandinavian-inspired concept which celebrates the beauty of Nordic landscapes. This particular range appealed to me because of the solid oak veneer, reminiscent of woodland and the soothing qualities of nature, and the rippled door fronts, which provide a sensory touch experience.

I chose RAK Ceramic Surface 2.0 ceramic worktops in Sand for a few important reasons. Firstly, they're incredibly durable; resistant to scratches and stains, and they're heat resistant too, meaning they can withstand high temperatures without discolouring or tarnishing. Secondly, ceramic is non-porous, meaning it doesn't absorb food or liquid particles, so it's easy to clean and very hygienic. 


I worked alongside a Magnet designer to figure out the best and most functional layout option – one that's open-plan, and feels easy to navigate. Renders of the kitchen helped me to visualise what the space would look like once finished, so I could make informed choices. A warm colour palette helps the space to feel cosy, as opposed to clinical, while Integrated appliances help to keep flashing lights and loud noises to a minimum. I also ensured the bin is kept well out of eyeline, too.

To finish the look, I opted for simplistic bar handles. I chose these specifically because of their ergonomics and aesthetics. They reinforce the organic look I've tried to create, while being seamless to use, too. I also added plants and soft furnishings, including a blind and tablecloth.
[Heading] 5 tips for creating a sensory kitchen in your home
Prioritise the layout
A higgledy-piggledy layout, insufficient storage or appliances in inconvenient places may cause unnecessary stress. If you're redoing your kitchen, consider very carefully the floorplan that would work best for you and your space. Consider: how can you make the room feel as open and flowing as possible? And: how much storage do you really need, and where in the kitchen? Try to visualise yourself using the space, and schedule appointments with specialist kitchen designers, such as those at Magnet, to explore all your options.
Be mindful of lighting
Lighting may seem like a small element when you're overhauling your kitchen, but it very often dictates how you use a space and how you feel within it. In a kitchen, you need multiple sources of artificial lighting. Bright task lighting is required for preparing meals, while softer lighting is ideal for dining and entertaining.
Texture is key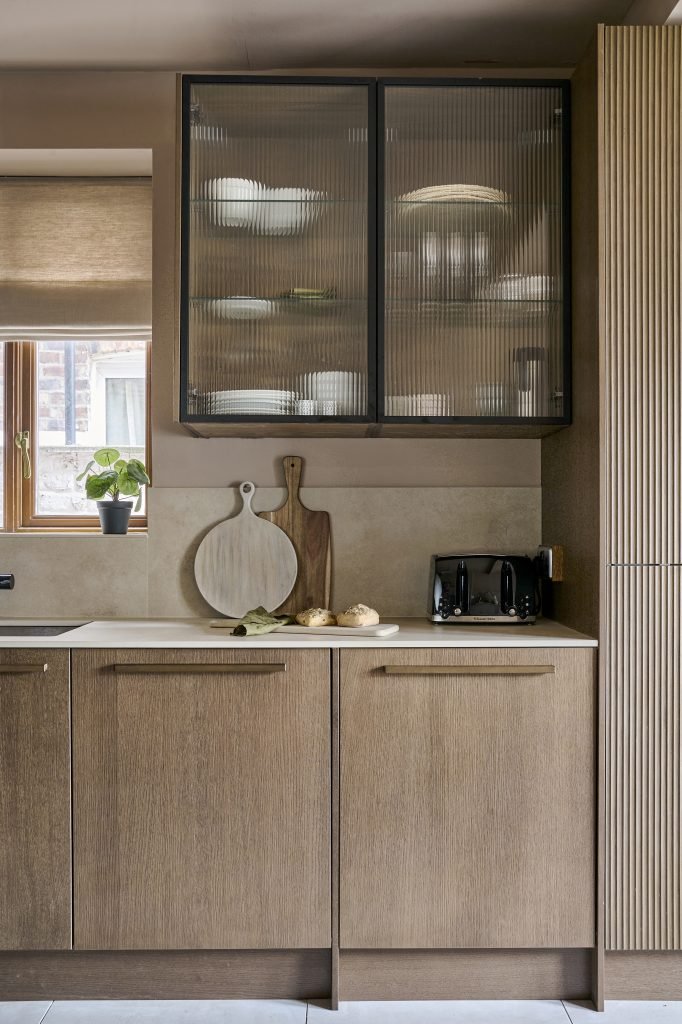 Just because you're unlikely to be looking to snuggle up in your kitchen, doesn't mean that texture is a redundant element. You still need to consider how the floor feels underneath your feet, how the dining chairs feel to sit on, how functional cupboard handles are and how they feel to the touch. Then, there are the appliances to bear in mind – consider the texture of the hob and oven dials, and not forgetting the tap handle, too. Opt for furnishings which you feel comfortable using, and which contribute to the overarching sensory experience of the space.
Don't forget about scent
Kitchens are fragrant by nature. Full of food and cleaning products scents – and sometimes less pleasant ones too – they can be overwhelming places for those sensitive to certain smells. You can manage this by ensuring the room is well ventilated to easily air out any unpleasant smells, and investing in a good quality extractor fan too. I opted for a RørosHetta hood in The Sensory Home, as it's a market-leading product where clean air is concerned.
Be mindful of bin placement, and consider storing your food waste in a compostable bag in the freezer to keep nasty scents to a minimum.
Incorporate natural elements
I chose oak-effect cabinetry because being around the colours, textures and patterns we see in nature helps to invoke a feeling of calm. This is worth bearing in mind when styling your own kitchen. You could opt for a wooden dining table and chairs, linen drapes or tablecloths, or potted plants and herbs. All provide a little nod to the tranquillity of nature. 
The Sensory Home worked in conjunction with Magnet Kitchens, who provided the Nordic Nature kitchen for The Sensory Home Project.